This July, we arranged a four-day Bittersweet Candy Bowl reader meetup in Boston.
22 people attended.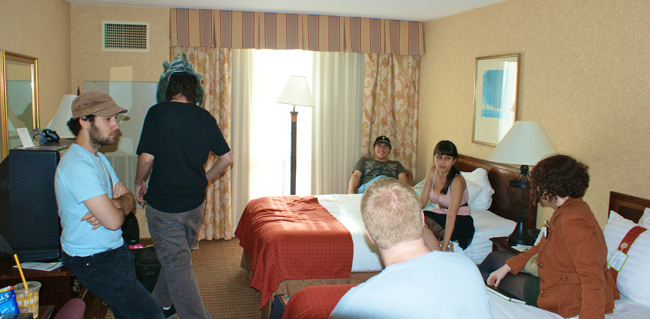 I thought it was a pretty great success, all things considered. Fun, strange, memorable and mostly problem-free. In the end, it was the kind of gathering I had hoped for.
The idea came of "LemoCon", the meetup my friend Sammybeany organised for many years. I went to one of those meetups, Veronica three. Ostensibly it was derived from the membership of an IRC channel called #lemonade, but we were really just expatriates of a Sonic-the-Hedgehog-based message board called The Moogle Cavern. Typically, 7–15 people would meet up somewhere in the United States, share a few hotel rooms for 2–4 nights, do some vacation-ey things together and head back home. If it sounds weird, it kinda was — internet people are always a bit weird. But for pretty much everyone who went, it was a lot of fun. Seeing the other side of someone you only knew through text often had surprising results. Intolerable people revealed their awesome side, and others were a little disappointing. But either way, you found your friends, you had some good conversations, you created some stories and you promised to yourself to meet up again afterwards.
This is not exactly why I pushed to do a "BCBCon". In a way, it came of me asking Veronica which convention hall she wanted to lease for the upcoming BCBCon, the international fan gathering where thousands of MikexLucy shippers would swarm towards a towering podium where Veronica would raise her arm and rally the troops, a giant Lucy face behind her, the Charles Foster Kane of high school drama webcomics, dominating a world that had forgotten PAX and San Diego, for only BCBCon was worthy of the webcomic world's great annual pilgrimage. Or bi-annual. Or no, monthly. We'd have to be fair to those who couldn't fit in to the stadium we'd hire.
I said all this stuff to get a rise out of her and to have her be all cute and embarrassed. It's the sort of stupid rambling joke I often make to her when we walk home. But with LemoCon's success in mind, I thought "hey, we have way more people than #lemonade ever did. What would become of a reader meetup that I arranged the exact same way Sammy did LemoCon?"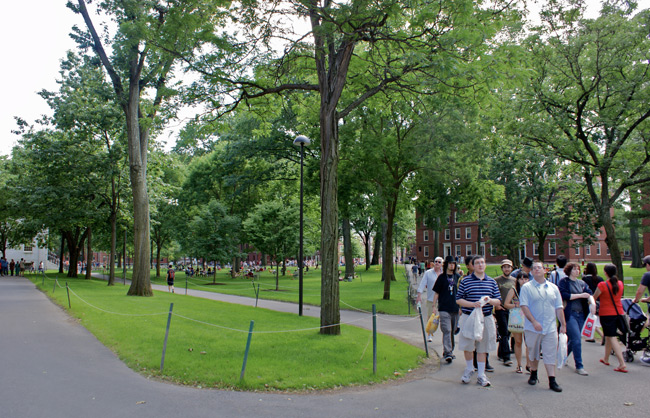 Well, you'd get another LemoCon, it seems. I didn't know how many people would come, and in the end, I'm pretty amazed we got 22. My first guess was 7–15. It turned out most of the attendees were people we knew intimately from the #bcb IRC channel, or the forums. Only a small handful of attendees could be described more readers than community participants. And that was okay.
It took a bit of investment, of course. In the end, each attendee paid us $120 for their share of three nights at the Holiday Inn at Beacon Hill (a reasonable, though unremarkable choice of mine) as well as committing various amounts of money to get there. We had people fly up from Texas and Mexico, drive down from Toronto, train in from Chicago.. Plus of course, Veronica and I live in Sydney, and took the trip up from New Jersey. It was certainly a big showing, but it's not all that surprising that we didn't have random passive readers of the comic putting down $500+ to come hang with some strangers. And not one was a deadbeat, I got every dollar necessary to foot the hotel bill! Very surprising to me, given how young many of the attendees were.
Now, the story and photos:
We had met up with Zhan and Lily at the bus station, old friends who we'd met a bunch of times before. We weren't too disoriented from the trip, but as we dragged our luggage through the city to the designated meeting area, we eventually stumbled onto about 15 young people standing around with suitcases and both had a minor freakout. Veronica turned her face and hid for a bit, and I just cringed internally and said "Oh, this is weird." a lot until we got close enough to say hello and identify ourselves.
A very strange experience. Probably the worst one of the weekend. You think "oh, shit, these people really came" and "oh shit, I'm kind of in charge of them!" Well, maybe not. I didn't think those things, but it was the same kind of anxiety that might accompany such worries. I'm not an anxious person at all, but it's hard not to feel a wave of it when you see this: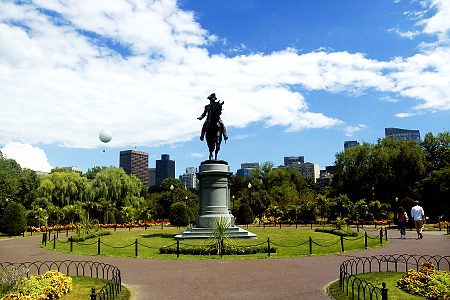 You will have to mentally fill in that stock photo with a big group of people with huge suitcases wearing Bittersweet Candy Bowl clothing.
Anyway. We went to the hotel, and settled in, and got to know everyone. Throughout the weekend SpaceMouse, Lily and Zhan provided us with the most useful local guidance around Boston. SpaceMouse had booked a bunch of things and prepared us all for the train system, for instance.
And then we went to the Museum of Fine Arts!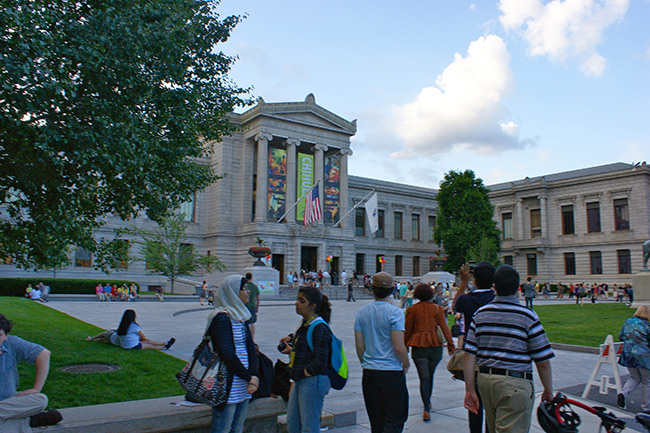 I enjoyed this. It was my first taste of what Boston's culture was like. I shouldn't pretend to think I learned a lot about the city while I was there, there was too much else going on, but I did get something out of this visit.
I was pleasantly surprised to find that our group was quite open to wandering around the galleries for a few hours without getting antsy. I got a lot out of the early American stuff on display. It's a great gallery.
The Chihuly exhibit they had going on downstairs was tremendous. Made for good photos, too.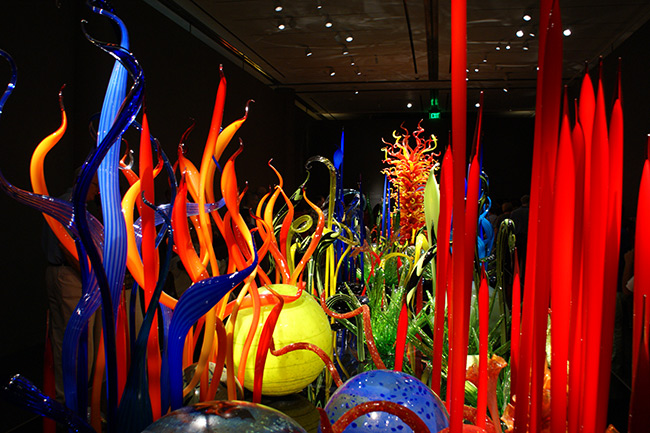 As we searched for a place to eat dinner, the restauraunt Zhan worked at came up in conversation, and Veronica and I asked if we could bring our party of 20+ to eat there. Turned out we could, and we had a great dinner. Possibly the best food I had during the whole overseas trip!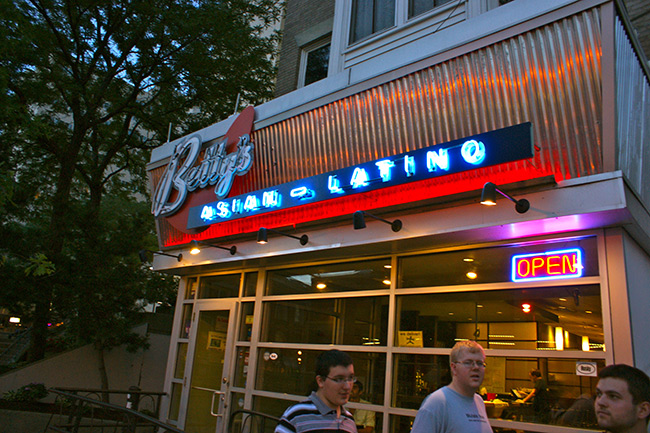 When we got back home to the hotel, Toasty logged onto his Netflix account and we watched half of Bebe's Kids on Veronica's laptop.
The next morning we went to the Museum of Science. Saw a planetarium show, saw the butterfly garden, played on a see-saw.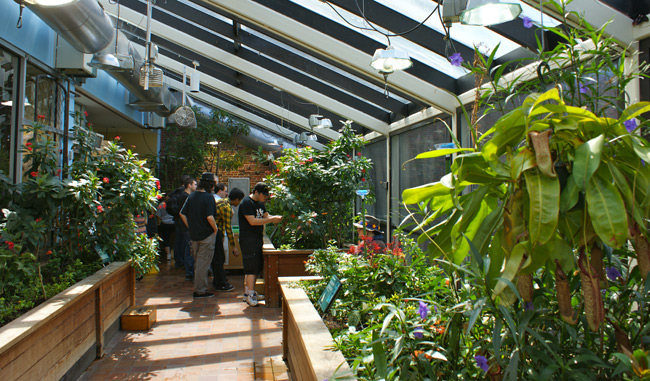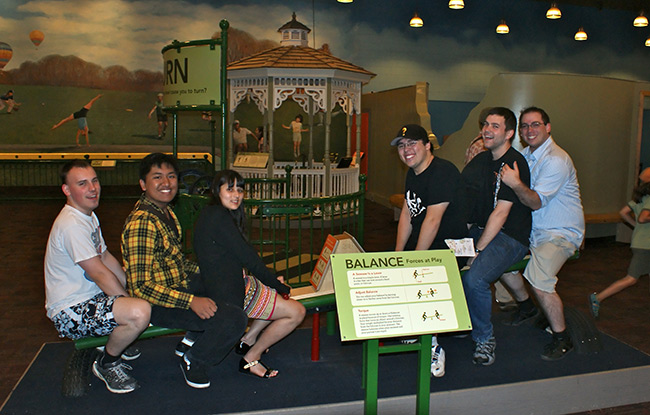 After that, we looked at Harvard and bought some books, which was fun. We went to some nerdy shops around the area, and I found some amazing old Sega magazines from the early nineties. The ads were as good as I hoped: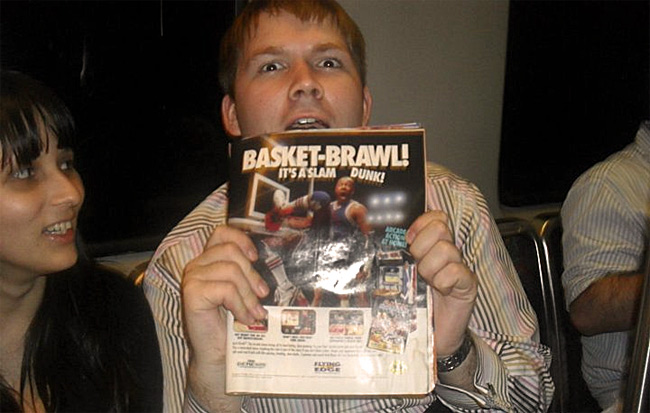 Above photo stolen from "Level 50 Fighter".
That evening, we went to Sacco's Bowl Haven, a name that I found childishly amusing. It was a bowling alley for "candlepin bowling", which is an interesting local variation of the regular ten-pin.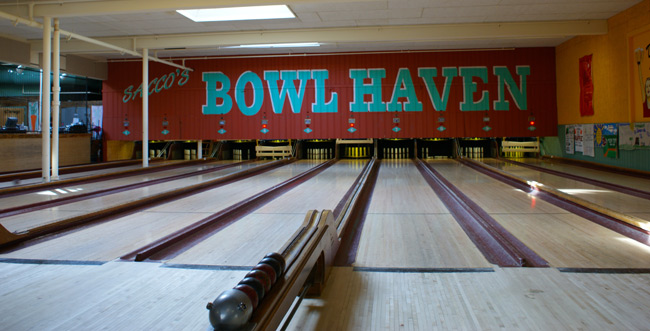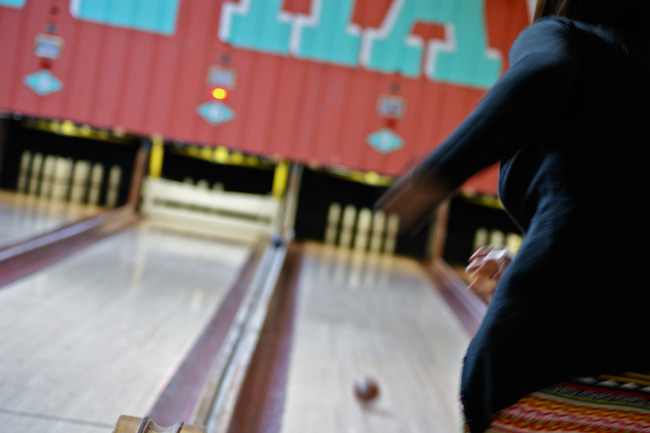 We had a lot of fun! It got a bit competitive, which is always great. They had some nice food, too. The only downer was when I couldn't order a drink because the server (the first and only to ask my age on the whole US trip) didn't like the fact my ID had expired. Oh well.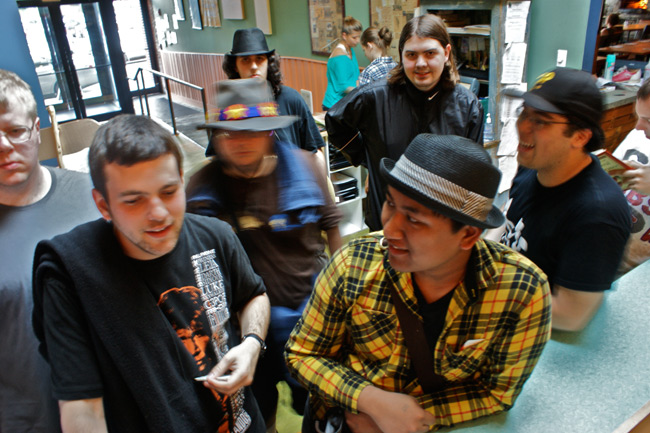 We went back to the hotel, and prepared for a night out drinking. SpaceMouse had asked about a certain bar, and hey why not. The kids could stay at home.
The place was really nice, once we got a seat. Things went about as well as expected. Only about five of us went. One didn't drink. Veronica drank too much and got super depressed. And peed in a drain.
:|
The next morning, she spent a lot of time drawing requests and working on a business card that I decided simply had to be prepared that day. It kept us back, but what can you expect? We didn't have terrible hangovers, but we were entitled to a lazy morning.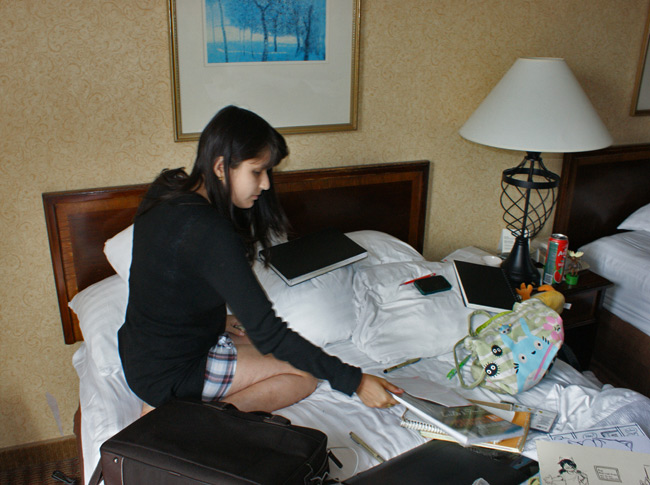 The stop after that was Faneuil Hall, which is like this giant food market alongside a shopping centre. But it was all situated in big historical buildings, and because of the July 4 weekend, lots of interesting stuff was going on. Very busy.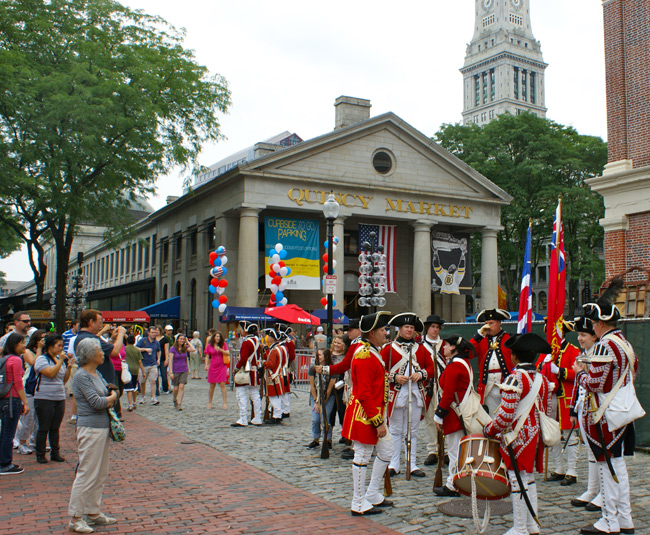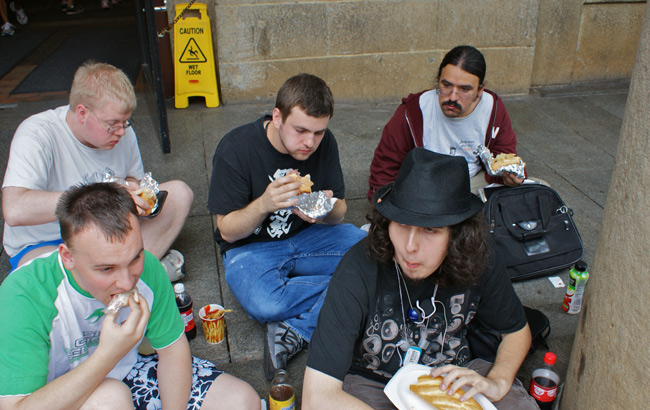 Lunch was pretty good.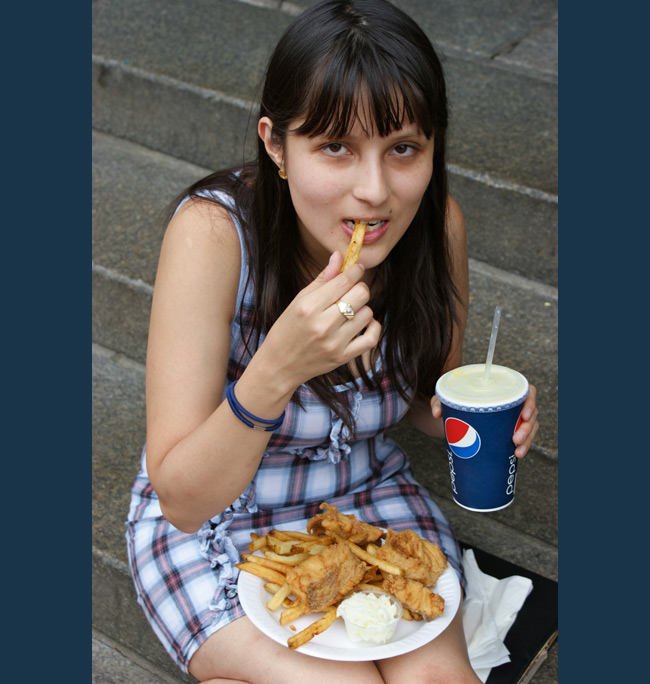 Vero's wasn't, apparently. But what do you expect, fresh fish in Boston?
Armed with Kaxbe's employee discount, we went to Abercrombie & Fitch to prepare for a night in the swimming pool, which basically didn't work out because it closed early. We ended up going to SpaceMouse's place out in suburbia to see his cat, who was very cute.
Dinner that night was a little dramatic, because they didn't have enough room for us all. Half the group split off and had 7-11 hotdogs or something.
When we got back to the hotel, I did a big giveaway of slightly flawed BCB merch. Free posters, free stickers, lots of things. It was nice to be able to give most people what they wanted.
On the final morning, Veronica and I went to see Zhan and Lily on our own. Some of the people had already said their goodbyes at this stage, and things were winding down.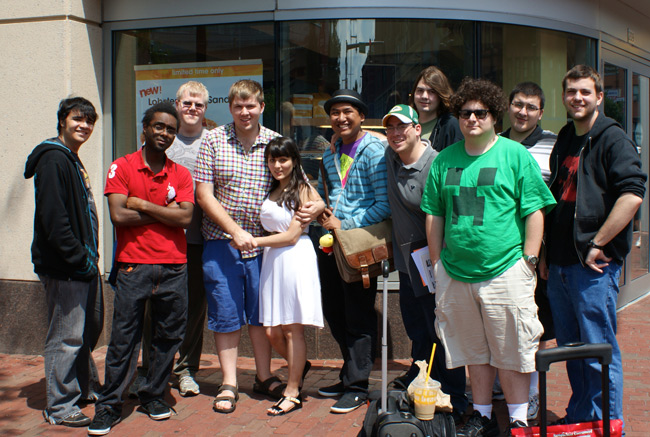 Half of the group: one's behind the camera (Zhan) and the other ten had to leave early.
After we all settled down in the burning hot sun to talk about our plans, we all went home. And that was that. (Well, kinda. We went on to exhibit at a convention and pack and send 200 books.)
BCBCon was a learning experience for me, certainly. If I were to do it again, I'd aim for 12 people. 22 was too much, people retreat into smaller groups and are too hard to manage. (For example, when half of us split to go see Harvard while the other half went back to the Museum of Science.) I'd plan to leave time for indoors activities — my fear that everyone would stay in the hotel and be boring was unfounded, and I think that if you keep it in moderation you can have some fun with video and board games and stuff in these big group environments. I'd make allowances for a night where everyone can get super drunk (but I'd also be mindful that 75% of Internet People don't drink at all.)
Oh, and I suppose I'd never trust a Chinese lapel pin company to deliver their product on time.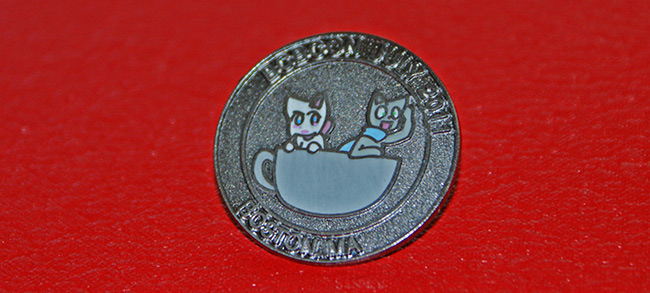 But beyond this? There's really not too much to complain about. It was cool to meet a bunch of people we only knew through the internet. It was fun to talk about the webcomic, and for Veronica to see first hand how dedicated some of her fans really could be.
It worked well. I think we'd do it again.
P.S. This post is well augmented by the long, semi-stream-of-consciousness retellings fromTD, Kaxbe and Veronica, who posted all on that forum topic page. 
P.P.S. You can see the rest of my photos here. I only picked the best ones for this blog post.